EU migrant quotas: Hungary's referendum gets the go-ahead
Comments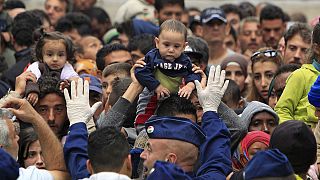 The Hungarian Supreme Court has approved the question for the referendum on EU migrant quotas proposed by the government. This will be the first official step against the refugee policy agreed by European leaders.
The case
A long-time opponent of the EU plan to resettle refugees in all member states, Hungarian Prime Minister Viktor Orban announced in February that his conservative government would propose a referendum on the issue. His argument echoed the idea of "giving Hungarians a chance to decide with whom they want to live", a line that many of his critics find too populist. The government's initiative has been officially challenged by some citizens and two opposition parties, meaning approval of the referendum ended up in the hands of the Hungarian Supreme Court.
The question
The Hungarian government wanted to put this question to the public:
"Do you agree that the European Union should have the power to impose the compulsory settlement of non-Hungarian citizens in Hungary without the consent of the National Assembly of Hungary?"
The decision
The court claims to have examined the petitions from many viewpoints and found it rightful and suitable. So, according to its decision the question to be put to the public is easy to understand and unambiguous. The court announced that it doesn't violate any international agreement or the Hungarian constitution, since it doesn't refer to any body of the European Union or the basic idea of EU membership.
What's next?
Legally there still are two more options to halt the process of the referendum:

The referendum must be confirmed by a vote in Parliament that may not support the motion

The result of the legislative vote can be challenged at the Constitutional Court
However, it is seen as unlikely that a parliament with an almost two-thirds majority for the PM's coalition would refuse Orban's initiative. Moreover, the Constitutional Court has authority to investigate only if steps leading to the referendum do not follow official protocol or if the question is not in harmony with the fundamental principles of the basic charter.

The government is confident its proposal will pass any other legal obstacles; the PM's cabinet chief Antal Rogán announced the referendum would take place in September or early October, despite it being the duty of the President to formally set the date of the ballot.