Dozens killed in ISIL suicide blasts in southern Iraq
Comments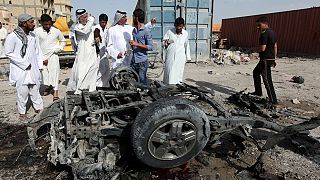 Two suicide car bombs killed at least 33 people and wounded dozens more in the southern Iraqi city of Samawa on Sunday.
ISIL said it was behind the twin blasts, minutes apart, targeting firstly special forces, then security officers who rushed to the scene. Up to 75 people were hurt.
ISIL holds positions mostly in Sunni areas of Iraq's north and west – far from the mainly Shi'ite southern region where Samawa is located.
On Saturday, the group said it blew up a car bomb, aimed at Shi'ite pilgrims in Baghdad. At least 23 people were killed.
The bloodshed comes amid an acute political crisis in Iraq that has seen supporters of Shi'ite cleric Moqtada al-Sadr storm the parliament building.