Iraq: al Sadr supporters storm Green Zone and parliament
Comments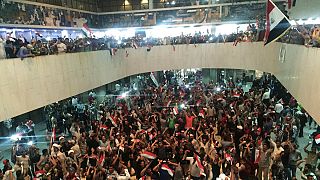 Hundreds of supporters of Shi'ite Muslim cleric Moqtada al-Sadr stormed Baghdad's Green Zone on Saturday and some entered the Iraqi parliament in protest at MPs' failure to convene for a vote on overhauling the government.
Loyalists to Sadr, whose fighters once controlled swathes of Iraq's capital, have been demonstrating for weeks at the gates of the heavily-fortified district housing government buildings and foreign embassies.
A guard at a checkpoint said the protesters were not searched before entering – although an armed group loyal to Sadr was said to have made some rudimentary checks.
Their leader had called on them to pressure the government to reform.
Prime Minister Haider al-Abadi wants to replace some ministers – chosen to balance Iraq's divisions – with technocrats to combat corruption. But political parties have resisted the changes.
Sadr's fighters once controlled significant parts of the city and helped defend it from the so-called Islamic State.
Pro Sadr protesters stormed #Baghdad green zone and #Iraq parliament . pic.twitter.com/mWsk5jkfPC

— Lutfi Abu Aun (@lutfiabuaun) 30 avril 2016