Unrest and arrests in Paris over labour reforms
Comments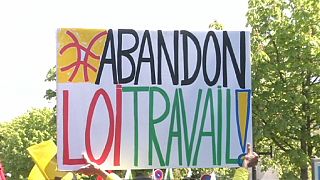 A violent day came to a violent end in Paris on Thursday as police clashed with activists occupying a prominent square to protest at labour reforms and other social issues.
Security forces moved in to disperse activists from the 'Nuit Debout' or 'Up All Night' movement from the Place de la Republique.
Demonstrators have staged sit-ins in the square every evening for weeks. But with their rallies only authorised until midnight, hundreds refused to leave.
More than 20 people were detained in the clashes.
Nationwide on Thursday over 100 protesters were arrested in a day of demonstrations against the proposed labour law which critics say will decimate basic worker rights.
Some 24 police officers were hurt, three of them seriously.
France labour law protests turn violent https://t.co/9pAHtzYlGQ

— The Guardian (@guardian) 29 avril 2016
More unrest is feared on Sunday, at traditional May 1 Labour Day rallies, and next week when the bill is debated in parliament.
Tens of thousands of people took to the streets to denounce the reforms.
Rallies took place in cities from Rennes in the north to Marseille on the Mediterranean coast.
Many of the demonstrators are students – worried about their future,.
President Francois Hollande's ruling Socialists want to give bosses more powers, to try to combat stubbornly high unemployment.
Deeply unpopular, Hollande faces a testing few months against a backdrop of protests and sluggish economic growth, before he announces whether he will contest next year's presidential election or not.