The United Nations appeals to save the truce and negotiations in Syria
Comments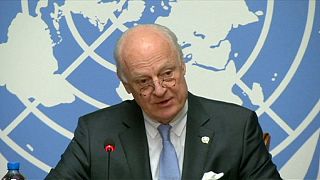 The United Nations has appealed to the United States and Russia to act to save the "cessation of hostilities" and the negotiations between the Syrian opposition and the regime. Staffan de Mistura, the UN envoy for Syria is battling to keep the peace process alive.
"This round of talks have instead been overshadowed, let's be frank, by a substantial and indeed worrisome deterioration of the cessation of hostilities," he said.
It was on Wednesday that the UN peace envoy held the last meeting of this third round of party talks which are aiming to ensure a political transition in Syria. But to no avail, there was no agreement but accusations.
Lat week the principle opposition group the High Negotiations Committee – the HNC – walked away for taking part for the moment pointing the finger at the Assad regime claiming it resumed hostilities.
It was on February 11 that the United States and Russia met in Munich and started a new round of discussions on Syria with the most urgent business on the agenda to establish terms for a ceasefire between the warring parties.
"A cessation of hostilities in the civil war is scheduled to take effect this weekend. We're not under any illusions. There are plenty of reasons for skepticism. Even under the best of circumstances, the violence will not end right away," President Barack Obama said at the time.
On February 29 immediately after the start of the cessation of hostilities in cities like Moadamiyeh the blockades which had been imposed by the warring factions were lifted. The UHNCR were able to deliver food to the population which had been suffering. It was not a ceasefire but it was relief for the civilians.
On March 15 the Kremlin announced the return of its bombers which had been deployed in Syria. The withdrawal brought the five-month campaign of airstrikes to an end. They had tilted the balance of war in favour of the regime.
Almost a month later Bashar al-Assad and his wife were shown on Syrian television voting in legislative elections. Yet it is he and his political future that continue to overshadow the diplomatic efforts to put some renewed momentum behind the peace talks and agree a transition to end the five years of war.