South African court paves way for Zuma to face renewed corruption charges
Comments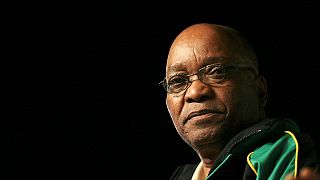 South Africa's High Court has ordered a review of a decision in 2009 to drop nearly 800 corruption charges against Jacob Zuma, saying the move that allowed him to run for president seven years ago was irrational.
The presiding judge said Zuma should face charges as they appeared in the indictment – but prosecutors say they need time to study the ruling. The governing African National Congress says it doesn't imply the president is guilty of any offence.
It is important to note that the Court did not deal with the merits of any allegations against President #Zuma

—

ANC

(@MYANC) 29 April 2016
The charges contain allegations of corruption, fraud and racketeering linked to a government arms deal in 1999 worth more than four billion euros.
The ruling follows a damning judgement in March by the constitutional court, which ordered the president to pay back some of the millions of state cash spent on upgrading his private home.
That led to calls for Zuma's resignation even from within the ANC.
The possible revival of more charges will add to his political woes. The opposition Democratic Alliance, which brought the case, says the court ruling is a "great victory for the rule of law".
#SpyTapes DA leader Mmusi Maimane happy case against President #Zuma said to resume. pic.twitter.com/XPa72XXYWZ

—

EWN

Reporter (@ewnreporter) 29 April 2016