UK to pay for Calais 'wall' to deter migrants
Comments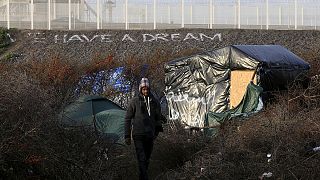 Migrants in the French port of Calais are resorting to increasingly desperate measures to get to Britain.
After the so-called Jungle camp was cleared last month, many refused to be relocated to container-homes offered by the French government.
Some migrants are now throwing tree trunks and branches onto the road to stop lorries using the Channel Tunnel.
Once stopped, they will try to climb on board in the hope of reaching the UK.
The driver of one truck was forced to stop when one of his tyres exploded after hitting a tree trunk.
Authorities in Britain have proposed building new barriers and even a wall along the road.
"The idea is to extend the fences that have already been installed by 300 metres, and then in the south, we're thinking of building a wall," explained Vincent Breton, Deputy Prefect of Calais.
French authorities searching the rail network find five people well-hidden on a freight train bound for Britain.
Building a wall to secure the transport networks would cost the British government eight million euros.
A price, it seems, they're prepared to pay to end this desperate and dangerous activity.