Calais struggles with its migrant hotspot status
Comments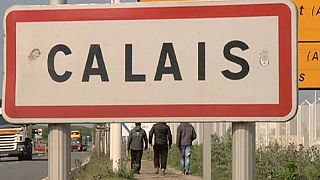 With their eyes on the UK, Calais in France is the last stop on a long journey migrants hope will end on the other side of the Channel.
In 1999 the Sangatte center, run by the French Red Cross, was set up to help feed and shelter migrants in the port city.
But in 2002, under pressure from the UK, France decided to close the center at the end of that year.
"We now need to pass to a new phase, the definitive and complete closing of the Sangatte center. This closure will happen on December 30," said Sarkozy.
Then French Interior Minister Nicolas Sarkozy scored a political win, getting the UK to provide asylum to 3/4 of the 1,600 migrants at Sangatte, which was then torn down.
But migrants do not disappear by magical agreements made by politicians. Hundreds settled in the surrounding woods. The "jungle", as it became known, was the scene of a massive crackdown in 2009, but the migrants never stopped coming….
These past 2 years, the number of migrants detained in the Calais region has multiplied by more than 4
4117 in 2013;
8336 in 2014;
18170 only for January to mid-May 2015 according to French border police figures.
Today, there are an estimated 3000 migrants stranded in Calais
In the 1990s migrants arriving in Europe without papers pretended to be Bosnians or Kosovars to get refugee status and to be eligible for asylum.
In the first decade of the 2000s, it is Afghans and Iraqis. With the war in Syria, "Syrian" became an 'open sesame' word for migrants.
In Calais and all over Europe, the authorities are trying to reinforce border security, leading to more frequent clashes.
Yet it seems at this point impossible to stop the flow of desperate human beings who dream of a better future in the "old continent".