French court approves plan for partial demolition of 'Jungle' camp
Comments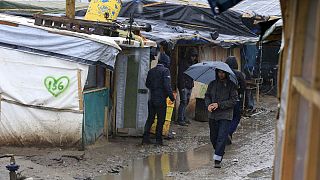 The French government's plan to clear part of the 'Jungle' migrant camp was on Thursday given the go-ahead by a court in Lille.
The French Interior Ministry said that 800-1,000 people would be evicted under the plan to demolish the southern part of the camp, which is located near Calais and is home to thousands of migrants and refugees.
Aid organisations, however, warned that the number of people affected would be much higher.
French authorities said that the evicted people would be offered shelter in a heated container accommodation near the camp.
Children's drawings at the school in #CalaisJunglepic.twitter.com/3NO98uZlH1

— Caroline Anning (@CarolineAnning) February 25, 2016
Those living in the 'Jungle' – migrants and refugees mainly from the Middle East and Africa – came to Calais in the hopes of reaching the UK.
But the British government has refused to admit them.
Decision on future of #CalaisJungle soon. Only one destination on minds of #migrantsGMB</a> <a href="https://t.co/Q68AlDOplG">pic.twitter.com/Q68AlDOplG</a></p>&mdash; Jonathan Swain (SwainITV) February 25, 2016
The sprawling camp has become a controversial issue in both France and the UK.
Calais officials have said that the 'Jungle' is home to around 3,700 people – and that they want that number reduced to around 2,000.
Dreaming of Britain – #Calais migrants don't give up hope https://t.co/RqLMvUsPrn#CalaisJunglepic.twitter.com/w0zs9BN1ek

— euronews (@euronews) February 19, 2016