Iraqi army makes modest gains in the battle against ISIL
Comments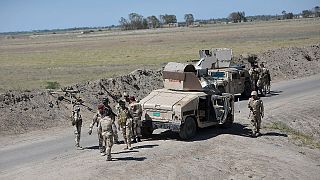 Iraqi forces supported by US-led coalition aircraft has made slight gains in the fight against ISIL.
On the northern front government troops took the town of Mahana.
Iraqi Army captures Mahana village just 60 kilometers from #ISIS-held #Mosulhttps://t.co/jNzHndnJbZpic.twitter.com/OjP0MEMssf

— Al-Masdar News (@TheArabSource) April 27, 2016
The advance brings the oil town of Qayyara closer,which will act as a staging post before any future assault on Mosul some 60km further north.
Iraqi Army Won Back Key Village Near #Mosulhttps://t.co/800Lu8HtGipic.twitter.com/MwT8go7IpE

— Fars News Agency (@EnglishFars) April 27, 2016
Iraqi officials say they will retake Mosul from ISIL this year, but many are
sceptical.
In Baghdad followers of the influential Shi'ite cleric Muqtada al-Sadr staged protests calling for comprehensive government reforms and an all-out cabinet reshuffle.
Iraq's parliament approved a partial cabinet reshuffle proposed by Prime Minister Haider al-Abadi, bowing to mounting public pressure for reform.