'Catastrophic' situation in Syria after hospital airstrikes, says UN
Comments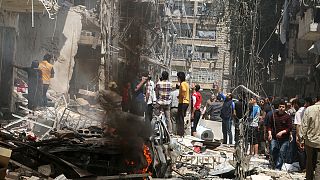 The United Nations says the situation in the Syrian city of Aleppo is "catastrophic" after deadly airstrikes on a hospital.
Activists say the dead included a dentist, and one of the few pediatricians remaining in the city's opposition-held areas.
The hospital, run by medical charity Doctors Without Borders, has been completely destroyed.
Aleppo has been the epicentre of a military escalation that has helped undermine UN-led peace talks in recent weeks.
UN envoy Staffan de Mistura said on Thursday a cessation of hostilities agreement brokered by the US and Russia was "barely alive."
"I believe that calling for a new round of talks during the course of May is urgent, but it is even more urgent in order to make sure that these talks are considered meaningful by the Syrian people that the cessation of hostilities level is actually reaching back to what it used to be," said De Mistura.
The chairman of the humanitarian task force said the aid lifeline to Syria is at risk. He described the bombing of hospitals and the killing of doctors as a "crisis within a crisis."
Jan Egeland said that if the attacks continue the UN's ambitious plan to deliver aid to besieged and hard-to-reach locations will not be possible.