Ukraine marks 30th anniversary of Chernobyl disaster
Comments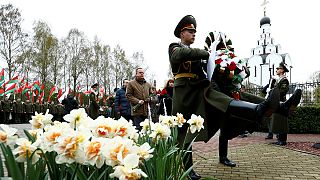 Ukraine held memorial services on Tuesday to mark the 30th anniversary of Chernobyl – the worst nuclear disaster in history.
The number of those who died or became disabled, amounts to hundreds of thousands
A botched test at the then Soviet plant, early on April 26, 1986, triggered a meltdown that spewed deadly clouds of smouldering radioactive material across large swathes of Europe.
Thirty-one workers and firemen died in the immediate aftermath. Over half a million so-called liquidators from across the former Soviet Union worked to contain the fallout – braving huge levels of radiation exposure.
Survivors were honoured at the site, on Tuesday's 30th anniversary, by Ukrainian President Petro Poroshenko.
"Medicine and statistics cannot give an exact number of victims," he said.
"But direct and indirect losses of human life, the number of those who died or became disabled, amounts to hundreds of thousands."
Poroshenko said: "The issue of the consequences of the catastrophe is not resolved. They have been a heavy burden on the shoulders of the Ukrainian people and we are still a long way off from overcoming them."
The anniversary has garnered extra attention due to the imminent completion of a giant 1.5 billion euros steel-clad arch that will enclose the stricken reactor site and prevent further leaks for the next 100 years.
The project was funded with donations from more than 40 governments and the European Bank for Reconstruction and Development.
Even with the new structure, the surrounding zone – 2,600 square km of forest and marshland on the border of Ukraine and Belarus – will remain uninhabitable and closed to unsanctioned visitors.
The Kyiv Post however has reported on a documentary called "Babushkas of Chernobyl," about some of the elderly women who have returned to live in the Exclusion Zone.
Film Critic: 'Babushkas of Chornobyl' see no reason to leave homes https://t.co/zdglRB4bA2pic.twitter.com/WEpCG2IHG6

— Kyiv Post (@KyivPost) 26 avril 2016
A sombre ceremony was also held in Moscow on Tuesday led by Russian Orthodox Patriarch Kirill
"During the war, people defended their country and did not think of their own lives. In the same way, the heroes of Chernobyl did not think of their health. Lives went to meet their death," he said.
The disaster and authorities' initial secrecy about it also had lasting consequences. Former Soviet leader Mikhail Gorbachev has said he considers Chernobyl one of the main nails in the coffin of the Soviet Union.
Gorbachev says Chernobyl helped cause fall of Soviet Union https://t.co/NOwQzZxNippic.twitter.com/RCPCaCmmMA

— Friends of the Earth (@FoEint) 26 avril 2016