Chernobyl: thirty years on, health issues remain
Comments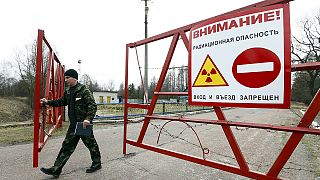 I must insist there is no question of any kind of disability."
Thirty years after one of the world's worst nuclear disasters, the question of radiation contamination at Chernobyl has not gone away.
A 2005 report from the WHO found 41 people died from trauma related to the 1986 explosion and predicted 4,000 in total would eventually die from radiation exposure.
Patients initially presented with cardiovascular and psychiatric complaints – these days, experts say, cases of cancer are prevalent.
But it is thought the figures might not reveal the full picture.
"Those who were ill left the Exclusion Zone. Some retired or had contracted disease. Only the workers with no health problems stay here, but maybe some are hiding their illnesses," said Galina Latysheva who works at a local medical centre.
Watch: A giant arch will encase the exploded Chernobyl reactor and seal it for 100 years https://t.co/dA5T4YoccKpic.twitter.com/BFwDRVYyK7

— Scientific American (@sciam) April 21, 2016
The Novarka construction company rigourously tests the general health of its employees as well as their levels of radiation.
Construction workers in the exclusion zone are paid well and do not want to lose their jobs.
Grindiaev Vladimir is an engineer:"I would not say that radiation has badly affected my health, but of course there are some difficulties. I must insist there is no question of any kind of disability."
Pripyat – a ghost town
Pripyat is a few miles from Chernobyl.
A busy settlement of workers and their families in 1986, it is now a ghost town.
The inhabitants fled after the accident at the nuclear plant and never came back.
In pictures
#TheWiderImage#Chernobyl – return to Pripyat by REUTERS/g_garanich</a> and <a href="https://twitter.com/alessaprentice">alessaprenticehttps://t.co/3xa1znxCHypic.twitter.com/LzcSQz6V94

— Reuters Paris Pix (@ReutersParisPix) April 25, 2016
CHERNOBYL, UKRAINE
Pripyat Amusement Park featured in Example: What We Made video to Call Of Duty 4 Modern Warfare pic.twitter.com/IkEGpt0AN1

— Votel Travels (@VotelTravels) April 24, 2016
Behind the closed door of PripyatAlina</a> Ruyda <a href="https://t.co/BcukLYuImF">pic.twitter.com/BcukLYuImF</a></p>&mdash; CHERNOBYLwel.come (CHERNOBYLwelcom) April 25, 2016
Rust In Peace – Vehicles remain scattered around Pripyat's Exclusion Zone pic.twitter.com/IfWtO6aNTM

— Chernobyl Gallery (@ChernobylG) April 25, 2016
Euronews correspondent Dmytro Polonsky says: "thirty years after the accident at Chernobyl, these days the issue of radiation contamination is not among the most significant concerns."
"The main problems now for people working nearby are the unstable apartment buildings and the large population of roaming wild animals."