Chernobyl: an insider's view of the atomic accident
Comments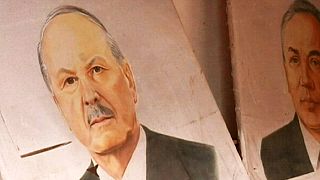 80-year-old Alexander Davidovich Hellerman started work at Chernobyl in 1976.
when the first reactor began operating.
He was a senior manager at the time of the accident and was one of the first to see the explosion at the fourth power plant unit.
"I had a front house in Pripyat. I saw everything clearly. The glow was already there (at the station). I went there and approached the fourth power unit. I saw the wall falling. Circulation pumps fell down. I informed the head of the station about everything, and he informed Moscow," Hellerman said.
"As we were driving by the station, there was a huge pink glow. The head of the station looked at me and pronounced only three words: "That's a prison". I still remember those words."
As a senior staff member, Hellerman was initially blamed for the blast but he maintained that safety tests could not be carried out because his team needed training and preparation to undergo emergency measures.
"There were no instructions for the staff over what to do in this emergency case or what to do in other cases. But other nuclear power units had these documents (procedures in place)," added Hellerman.
After the accident, Hellerman continued to work at Chernobyl for another three years.