Supporters of cleric Al Sadr protest in Iraqi capital Baghdad
Comments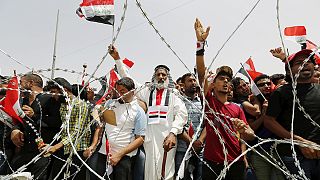 This is central Baghdad.
Supporters of influential Shiite cleric Moqtada Sadr gathered in central Baghdad to protest against what they say is rampant corruption and to call for a cabinet reshuffle.
Demonstrators have been holding a sit in for weeks. They say divisions between lawmakers have brought the government to a standstill.
"All groups of Iraqis, Sunnis, Kurds and Shiites, are walking toward the Green Zone," said protester Ali Abada. They [politicians] are all thieves. We must get rid of them."
Gathered in front of the city's heavily fortified Green Zone, supporters waved Iraqi flags and held posters with anti-corruption messages.
Iraq has been gripped by a major economic crisis and war against ISIL that's choked domestic services, sparking further discontent.