South Sudan rebel leader Riek Macha sworn in as vice-president
Comments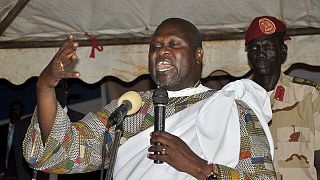 South Sudanese rebel leader Riek Machar is back in the capital Juba and has retaken his position as the country's first vice president.
He has taken up the post under a peace agreement reached eight months ago, but delayed until now by disputes between Machar and the government of President Salva Kiir.
"The four challenges I'm seeing: stabilization of security, stabilization of the economy, getting access of the humanitarian relief, and then the process of national reconciliation, so, I am happy to be here," Machar, said at his swearing-in ceremony.
Machar's return comes more than two years after the start of a civil war that has since killed tens of thousands of people and forced over two million to flee their homes.
The conflict erupted after a power struggle between Machar, an ethnic Nuer, and Kiir, from the dominant Dinka group. The fighting has increasingly followed ethnic lines, unsettling an already volatile region.
The transitional government also wants to end the fighting and resettle millions of displaced people.