Merkel visits Syrian refugees in Turkey amid tension over EU migrant deal
Comments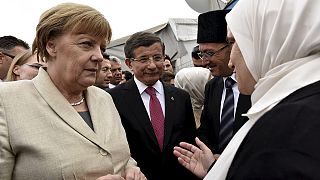 German Chancellor Angela Merkel visited Turkey on Saturday to see how Syrian refugees are being treated and to try to soothe tensions over the EU-Turkish migrant deal.
Arriving at Gaziantep near the Syrian border, she was met by Turkish Prime Minister Ahmet Davutoglu.
Amid a ramped up security presence, Merkel, EU Council President Donald Tusk and European Commission Vice-President Frans Timmermans visited a local refugee camp.
A banner proclaiming Turkey as 'the world's largest refugee-hosting country' was on display. Turkey is keen to demonstrate its credentials after rights groups claimed it was not a safe country for those seeking sanctuary.
Best outcome of #EUTurkey visit today? An end to abuses against refugees! https://t.co/Iq0khS134R#DealBreakerpic.twitter.com/rSPCbodzox

— Amnesty EU (@AmnestyEU) 23 avril 2016
All looked well in the camp in the town of Nizip.
But with places available in camps limited, most of those fleeing Syria are living in Turkey's towns and cities,
many begging or working illegally.
Under the deal, Turkey has agreed to take back migrants crossing the Aegean Sea in return for financial aid, progress in EU membership talks and quicker visa-free travel to Europe.
The latter is proving particularly difficult and Ankara has threatened to walk away unless Europe keeps its side of the bargain.
Visa-free travel a stumbling block for #Turkey and #EUhttps://t.co/7EVyBpKcqe by @chaseawinterpic.twitter.com/3ChOJb7pDZ

— dwnews (@dwnews) 23 avril 2016