Turkey: Protests over 'freedom of speech' trials
Comments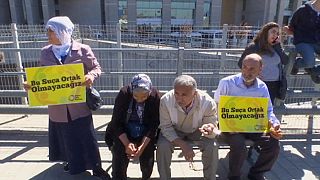 Demonstrators in Turkey have denounced two 'freedom of speech' cases being heard at the same court in Istanbul on Friday.
Truth cannot be silenced...truth will not surrender
They gathered outside the tribunal to protest the separate cases.
In the first, four academics are accused of spreading 'terrorist propaganda' after publicly opposing Turkish military operations in the mainly Kurdish southeast.
In the second trial, prominent opposition journalists Erdem Gul and Can Dundar of the Cumhuriyet newspaper are charged with espionage for a report over the government allegedly smuggling weapons to extremists in Syria.
Protester Gonenc Hacaloglu, a university student, claimed the pair of reporters are being tried for revealing 'war crimes' by the ruling AK party and government.
"They were apprehended for this reason. They are on trial for being honorable journalists, for being able to state the facts. And for this reason we have called on university students, so that we can say that the truth cannot be silenced, and that the truth will not surrender," he said.
Turkish President Recep Tayyip Erdogan has cast the newspaper's coverage as part of an attempt to undermine Turkey's global standing and has vowed that Dundar, Cumhuriyet's editor-in-chief, will "pay a heavy price".
The trial comes as Turkey tries to deflect criticism from the European Union, United States and rights groups that say it is bridling a once-vibrant press.