Syrian peace talks in Geneva collapse in acrimony
Comments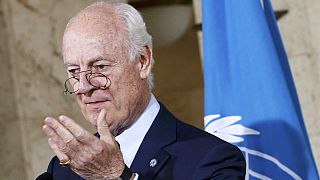 It appears the protagonists in the Syria conflict may soon have any shackles removed with what looks like the imminent collapse of peace talks in Geneva.
Fighting has been surging in recent days as the ceasefire wears thin and government and Islamic extremist forces seek to gain the advantage over outflanked and outgunned rebel forces in Aleppo and the Damascus suburbs.
"So far, 560,000 people have been reached between hard to reach areas and besieged areas. there has been modest but real progress, not enough to make us comfortable at all," said the UN's Syria envoy Staffan de Mistura, at least able to note some progress in the delivery of aid.
The opposition says all its delegates in Geneva will be gone by Friday, angered at Mistura's perceived soft-pedaling towards Damascus, ceasefire violations, and President Bashar al-Assad's continued refusal to consider a power transition.
"We say to the head of Syrian government delegation that if he wants a real national unity government, first he must release the 10,000 women in his prisons, and the tens of thousands other there. He must also stop the massacres he is committing everyday, so he can be a human with an ounce of nationalism. Then maybe the negotiations will resume," said senior opposition negotiator Mohammed Alloush.
There has been little let-up in the barrel bombings and bombardments while the talks have failed to produce much in the way of results. The opposition may have hoped that by walking away the great powers would have put more pressure on Syria to compromise.
Instead they have been silent.