Second strong earthquake hits Ecuador halting rescue work
Comments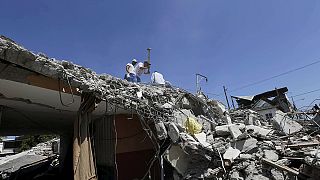 The total official loss of life in the Ecuadorian earthquake is now 525 and climbing as the coast was hit by another strong earthquake on Wednesday. a 6.2 tremor near the epicentre of Saturday's 7.8 quake.
Witnesses reported two strong tremors, each lasting about 30 seconds, that woke people and brought them out into the streets, and a series of aftershocks.
Many isolated villages and towns have cut-off power and water supplies, and transport problems mean aid is struggling to get through.
"We have received non perishable products, mainly tuna, rice, biscuits, around 7,000, 8,000 ration packs that will be given away to our brothers who are in need because of this natural disaster," said Lieutenant Fredy Cabascango of the Ecuadorian army.
The new quake led to rescue operations ongoing since Saturday being suspended over safety concerns.
"People are very desperate and that doesn't help much. They all crowd around when aid arrives and there are people who are suffering a lot," said one survivor.
Many foreign aid workers have flown in with supplies and to offer their services, and the president says it could cost the country up to three billion euros and knock two to three percentage points off growth, already stagnant in a poor country of 16 million people.