The number of dead in Ecuador earthquake continues to rise
Comments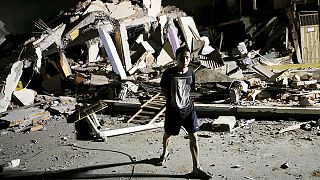 The number of dead from Ecuador's most devastating earthquake in decades continues to rise.
Ecuador president says earthquake death toll now stands at 272, could rise "considerably." https://t.co/y4wKnlSNwppic.twitter.com/5v5GwChtoC

—

ABC

News (@ABC) April 18, 2016
So far at least 272 people have been confirmed dead with 1,500 injured, however as rescue services gain access to the hardest hit areas the numbers are expected to rise.
President Rafael Correa broke off a visit to Italy to deal with the crisis: "This is the biggest tragedy, in the last 67 years. But my dear homeland, we will carry on. We will learn to surpass any obstacle – more unity and solidarity is needed today. We are all Ecuador."
The 7.8 magnitude quake hit coastal areas in the north-west of the country on Saturday evening.
Ecuador earthquake: Death toll riseshttps://t.co/I6w3fw2pl4pic.twitter.com/OtrmkzsM0g

—

BBC

News (World) (@BBCWorld) April 18, 2016
Some 10,000 troops and 3,500 police are heading to the affected areas and international aid is beginning to arrive.
Venezuela and Mexico have already responded with Colombia announcing it will send rescue teams and search dogs with the navy transporting water to those in need.
Earthquake devastates Ecuador https://t.co/JzkYiYxl6bpic.twitter.com/fmrD8KKDuX

— The New York Times (@nytimes) April 18, 2016
The area has been hit by more than 130 aftershocks.
Ecuador is part of a region of high seismic activity known as the Ring of Fire.