Ecuador: fake pictures of lightning before the earthquake go viral
Comments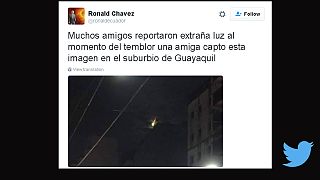 Reports of mysterious lightning flashing over the Ecuadorian sky just before Friday's magnitude 7.8 earthquake sent social media into overdrive.
And, as has become typical, trolls took advantage to post fake photos and videos.
Journalists from El Universo newspaper reported seeing the lightning.
A group of Rutgers University researchers explained the "earthquake lights" phenomenon back in 2014 which could explain what happened in Ecuador.
Images of the lightning are being widely shared, but many are clearly not what they pretend to be.
These photos:
Muchos amigos reportaron extraña luz al momento del temblor una amiga capto esta imagen en el suburbio de Guayaquil pic.twitter.com/pV0T4OqF7U

— Ronald Chavez (@ronaldecuador) April 17, 2016
#SismoEnEcuador En redes sociales se viraliza esta imagen: Una extraña luz en el cielo durante terremoto en Ecuador pic.twitter.com/0Zc9wIsvFy

— DE1A5 – C5N (@DE1A5_C5N) April 17, 2016
Seem to come from a 2015 meteorite in Argentina.
Meteorito cayo del cielo luz verde pic.twitter.com/o0vqH9CKjU

— Pablo .  (@pabloschi) 31 de julio de 2015
Fake video
One of the most shared images, a video showing the lightning in detail also turned out to be a fake.
Extraña luz en el cielo segundos antes del terremoto en #Ecuadorhttps://t.co/Kxft5m2mJy

— Efrain Salinas  (@Efrain_Salinas) April 17, 2016
[VIDEO] #Ecuador: extraña luz cruza el cielo durante terremoto de 7.8 grados → https://t.co/AH7FyByTUGpic.twitter.com/c9ZXdXaaQt

— Panamericana.pe (@PanamericanaTV) April 17, 2016
It is actually an excerpt of a 2015 video of a meteorite filmed in Argentina.