Strong aftershocks strike Japan as quake survivors struggle
Comments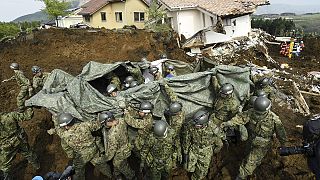 Hundreds of strong aftershocks in southern Japan have occurred since last Thursday's large earthquake of magnitude 6.4 struck the country.
Some have measured up to 7.3 and dozens have registered at least four on Japan's intensity scale, enough to cause buildings to shake.
The total number of confirmed dead now stands at well over 40.
Some 30,000 rescuers have been digging through mud and damaged houses. At least eight people remain missing and more than 1,000 have been injured.
The body of a woman was dug out of the rubble in Minami Aso on Tuesday. She was the victim of a landslide triggered by a second major earthquake on Saturday which took many locals by surprise following Thursday's initial tremor.
Commercial flights in #Japan's quake-affected #Kumamoto airport resume operations https://t.co/gUE5LZax6H (AFP pic) pic.twitter.com/UsAWvYI0Uy

— China Xinhua News (@XHNews) 19 April 2016
Survivors have been struggling with shortages of food and water.
At Kumamoto on Japan's southern island of Kyushu, the first flight from Tokyo in four days arrived early on Tuesday morning as the airport partially reopened. The terminal building remained closed due to earthquake damage.
The arrival provided a chance for some of the 38 passengers to bring food and other relief supplies.
"My wife lives here, so I brought a lot of things to get our life back on its feet," an elderly man said as he got off the plane.
"I was finally able to get a flight to Kumamoto first thing in the morning, so I'm relieved," a young woman added.
At Mashiki, one of the worst hit areas in Kumamoto , collapsed buildings, damaged walls and smashed concrete blocks are a common sight.
Unable to go home, more than 1,000 people remain stranded at a public health centre.
According to broadcaster NHK, around 125,000 in Kumamoto are taking shelter at city offices, schools, and even in car parks.
Tens of thousands of people remain without electricity and water.
Japan opens prison to care for #Kumamoto quake evacuees https://t.co/84g6xT5J1V

— Daniel Leussink (@danielleussink) 19 April 2016