Migrants allowed to leave Greek camps while asylum applications processed
Comments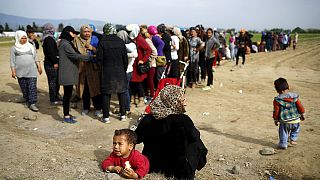 Migrants on the Greek islands are being allowed out of the detention camps where they're being housed, while they wait for their asylum applications to be processed.
Giorgos Kyritsis, a spokesman for the SOMP agency, which is coordinating Athens' response to the refugee crisis, confirmed the news.
The rule applies to those seeking asylum who have spent at least 25 days in the camps. They must stay on the island and remain available to the authorities.
Pope Francis addresses refugees
The move comes days after Pope Francis visited a camp in Lesbos and returned to Rome with 12 Syrians (three families).
He has come under fire for bringing back Muslims, rather than Syrian Christians.
Addressing the refugees, the Pontiff said:
"Forgive the closure and indifference of our societies that fear the change in lifestyle and mentality that your presence requires. Treated like a weight, a problem, a cost, you are instead a gift."
Idomeni
Some 50,000 people are currently stranded across Greece. Of those, around 10,000 are stuck in a makeshift camp near Idomeni, on the Greek-Macedonian border.
Migrants in the camp say food is scarce and information scarcer still and tensions have been escalating for weeks.