AP takes the gold medal at this year's Pulitzer Prize awards
Comments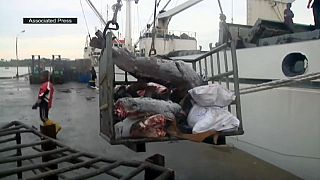 Celebrating their centenary year the prestigious Pulitzer Prizes have been awarded for 2016, applauding excellence in US journalism and the arts.
Mike Pride, Pulitzer Prizes administrator made the announcements including one for Associated Press
"The Pulitzer gold medal goes to the Associated Press"
AP won its public service prize for its "Seafood from Slaves" report which was an investigation into the use of slave labour in South East Asia's fishing industry. The coverage resulted in the freeing of some 2,000 slave labourers and sweeping reforms.
In the breaking news photography category there were two winners Reuters and the New York Times for their coverage of the European refugee crisis, proving that a pictures can paint a thousand words.
NYT & Reuters shared the Pulitzer for breaking news photography. Photos by reuterspictures</a>: <a href="https://t.co/HKlj03Ga4k">https://t.co/HKlj03Ga4k</a> <a href="https://t.co/36KpyxkTeq">pic.twitter.com/36KpyxkTeq</a></p>&mdash; NYT Photo (nytimesphoto) April 18, 2016
And the Los Angeles Times took the breaking news reporting prize for its coverage of the San Bernardino Massacre.
For all the other awards click on Pulitzer Prizes 2016.