US defence secretary in Baghdad to plot assault on ISIL in Mosul
Comments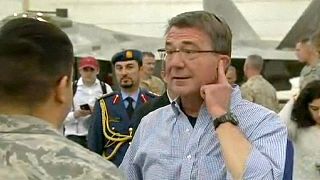 US Defence Secretary Ash Carter is in Baghdad to discuss tactics with Iraqi leaders on how to intensify pressure on ISIL in the strategic city of Mosul.
Just arrived in Baghdad with Sec Defense Ash Carter. He's meeting with Iraqi PM re fight against ISIS. pic.twitter.com/mqsYH6g89m

— Lester Holt (@LesterHoltNBC) April 18, 2016
Carter has a number of options at his disposal; to increase the number of airstrikes, to allocate more US ground troops and boost cyber activity.
US, Iraq consider more troops to fight for Mosul – https://t.co/bvcNBBvE7ipic.twitter.com/VLzACnzOxo

— Stars and Stripes (@starsandstripes) April 18, 2016
The US believes Mosul is a key objective if ISIL is to be defeated in Iraq.
The Pentagon claims that an operation to liberate Iraq's second city is fraught with danger as the whole area is a booby trap.
Iraqi forces have been buoyed by recent gains after retaking the ISIL held Hit in Anbar Province.
And now, Mosul: Iraq's government has begun the long fight to retake its second largest city https://t.co/qZF5t75OFFpic.twitter.com/X22j79v4Mq

— The Economist (@TheEconomist) April 14, 2016
Any further US troop involvement in Iraq will need the authorisation of President Obama and the agreement of the Iraqis.
The Iraqi military appears ready to allow US forces into Iraq as long as they provide the specific requirements needed to oust ISIL from Mosul.