Syrian opposition stays away from Geneva peace talks
Comments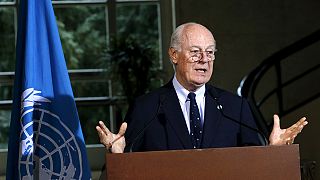 A bad day for the UN's man in Geneva, Staffan de Mistura, who faced empty chairs when he sat down with the main Syrian opposition, who decided to suspend their participation in peace talks. Delegates will remain in the city for informal discussions, but they have already stated they think the UN's Special Envoy is biased in favour of the Syrian regime.
The opposition said the worsening situation on the ground and a wide gulf of disagreements meant it had little choice. They may now be hoping for the UN and the major powers steering the process to put more pressure on Bashar al-Assad to compromise. However compromise appears to still be off the menu in Damascus.
"What the Riyadh faction or the so-called Group of Saudi Arabia announced confirms what we have already revealed to public opinion: the Israeli-Saudi-Turkish will to derail inter-Syrian negotiations in Geneva . The Saudi Arabia faction only waited two days to announce this commitment to derail the talks, and this is proof that these negotiators do not have the political will essential to establish a serious and responsible dialogue," said Syria's Chief Negotiator Bashar Jaafari.
"Several questions arise from the opposition delegation's postponement of negotiations and if this decision will really be the beginning of the end of the peace process here in Geneva. A peace that many Syrians hoped for at the United Nations, a peace to end their suffering," says euronews' Faiza Garah.