Syria: Polls and peace talks as fighting escalates
Comments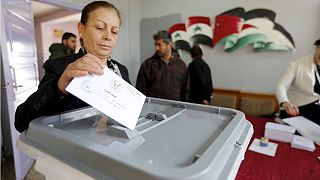 State-controlled areas of Syria are voting on Wednesday in parliamentary elections boycotted by the opposition.
The polls are seen as a sham by the West and are taking place amid an upsurge in fighting, pushing the country's fragile partial truce to breaking point.
Yet with the outcome a foregone conclusion in favour of the Assad regime, the vote is seen as a sign of the President's growing confidence in the civil war, buoyed by Russian and Iranian military support.
The election is being held as UN-brokered indirect peace talks resume in Geneva.
Syria peace talks resume as violence surges in Aleppo province https://t.co/ZVzVc2bKoEpic.twitter.com/na1LpC4anD

— AFP news agency (@AFP) 13 avril 2016
The first round made little progress with no sign of compromise over the thorniest issue, the fate of President Bashar al-Assad.
Members of the main opposition bloc, who arrived for the talks on Tuesday, want a transitional governing body for Syria that does not include Assad.
But Damascus has ruled out any discussion of the presidency, calling it a red line. Its delegation is not due to arrive until Friday.
Syria's civil war has killed more than 250,000 people, created the world's worst refugee crisis, allowed for the rise of ISIL and drawn in regional and international powers.