Government and rebel forces launch new attacks in Syria
Comments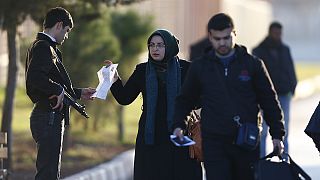 The upsurge in fighting in Syria that has cast a huge cloud over peace talks has involved attacks from both government and rebel forces.
Pictures uploaded onto social media websites are said to show the aftermath of government airstrikes on Rastan and Houla in Homs province on Monday. Those injured in the attacks are shown being rushed to hospital. A monitoring group claimed four people had been killed and the death toll was expected to rise.
Meanwhile rebels have responded to what they call government ceasefire violations with advances in Hama and in Latakia province. Fighting has also increased recently around Aleppo.
In Latakia's northern countryside, a number of insurgent groups launched a fierce attack on government forces and their allies in the early morning, and had made advances by midday, according to the monitoring group.
In Hama insurgents, including factions that did not commit to the truce, were reported to have almost completely taken over the town of Khirbat al-Naqus in the strategic Ghab plain. A Syrian military source confirmed the insurgent attacks, saying the army was fighting back and had thwarted a car bomb attack.
In Turkey four people in the southeastern town of Kilis are said to have been killed by cross-border rockets fired from Syria. The local governor said they came from territory controlled by the so-called Islamic State, and that the Turkish army had retaliated.