Ecuador earthquake: death toll soars to 350 with fears mounting it will continue to rise
Comments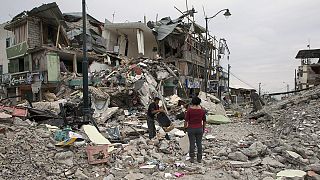 The death toll from Ecuador's devastating earthquake has risen to at least 350.
As the hours pass by, fears are mounting that the figure will continue to climb.
More than 2,000 people were injured in the magnitude 7.8 'quake, which was felt around the nation when it struck off the Pacific coast late on Saturday (April 16).
Many in the badly-hit coastal areas, such as Pedernales, are still searching for loved ones.
"No, I didn't sleep last night and I won't be able to sleep today because I am fraught with worry and desperation to find them, to see them, to know they are OK," said Betty Reina, a survivor whose loved ones are still missing.
President Rafael Correa broke off a trip to Italy to deal with the crisis.
Some 10,000 troops and 3,500 police are heading to the affected areas and international aid is beginning to arrive.