Wacken kicks off Strongman Run season
Comments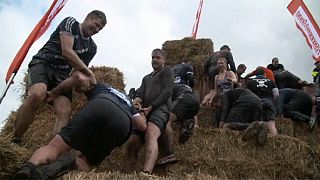 The first Strongman Run of the season took place in Wacken, northern Germany on Saturday.
Considered one of the toughest obstacle races on the planet it's certainly not for the faint hearted.
But Some 3000 competitors still took part, taking on the 20 kilometres of uneven terrain, leg and lung-busting challenges through mud and ice cold water trying to set the fastest time.
German Robin Dechant carved his way through the course to finish first ahead of compatriot Marco Kolmorgen while Dutchman Elte Huppkes rounded out the podium.
Susanne Kraus won the women's race to lead a German one-two-three ahead of Sara Kampala and Helene Schrader.
The second of four strongman Runs takes place on 21st of May on the Nürburgring Racing track.