Lesbos refugee camp cleaned-up ahead of Pope's visit
Comments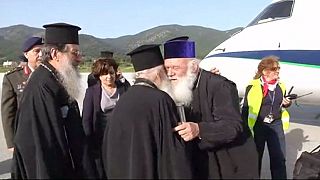 A refugee centre on the Greek island of Lesbos is undergoing a clean-up ahead of a visit from the Pope on Saturday.
We are suffering here. We have be released. It's not a decent life.
Moria was one of two refugee camps opened on the island. But the gates were closed on March 20, turning it into a detention centre as part of the EU-Turkey deal to send back migrants arriving in Europe.
NGO Save the Children has warned that some of the camp's youngest residents are falling ill under the appalling conditions found there.
Journalists were barred from entering.
Speaking through the fence, one refugee told our reporter: "We are suffering here. We have be released. It's not a decent life here. There's not enough food and we are unhappy here."
''The visit (of the Pope) will send a message to the world that we must all be compassionate," said one Greek resident of the island. "The borders must open, because the refugee problem is a very big matter."
Some hope the Pope's visit means they won't be sent back to Turkey. Euronews correspondent Stamatis Giannisis on the island of Lesbos says:
"Both the Pope and the Greek Orthodox Patriarch emphasise that their visit to Lesbos is purely humanitarian. But the image of the two supreme Christian leaders meeting with refugees, some of them bound for deportation, will likely bring the controversies of the recent EU deal with Turkey back into the spotlight."
GREECE – Migrants protest in Moria detention centre in Mytilene on the eve of Pope Francis' visit. By ArisMessinis</a> <a href="https://t.co/cQrOvHMybC">pic.twitter.com/cQrOvHMybC</a></p>&mdash; AFP Photo Department (AFPphoto) April 15, 2016