Iraq PM warns political crisis could harm fight against ISIL
Comments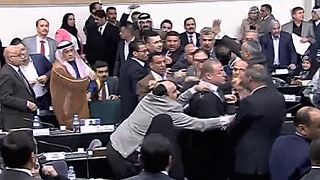 Iraq's Prime Minister has warned that a political crisis gripping the country could harm the war against ISIL militants.
Grappling to retain control, Haider al-Abadi vowed to continue with anti-corruption reforms, saying he wouldn't allow divisions to drag the country into the unknown.
Tussles broke out in parliament on Wednesday amid a row over a cabinet reshuffle. The proposed line-up of technocrats aimed at curbing corruption was blocked. MPs threw bottles of water and punches after the vote on the new cabinet was delayed
On Thursday, MPs attempted to oust the speaker of parliament. It came after calls for the country's leadership to resign, including the Prime Minister.
An emergency session is scheduled for Saturday, to hammer out a compromise.
Pressure to reform the government has come from the clergy of the Shi'ite majority and popular anger over a lack of basic public services as the country faces an economic crisis due to the crash in global oil prices.
Many Iraqis blame MPs for the deep-rooted corruption that has exacerbated the crisis.
The state budget has been slashed just as the country needs more resources to fight against ISIL militants.