More tear gas as migrants vent frustration at Idomeni
Comments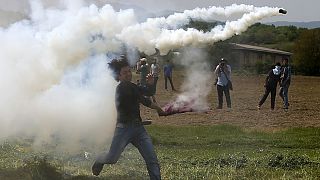 Migrants trapped on the Greek side of the border with the Former Yugoslav Republic of Macedonia again vented their frustration at being unable to cross on Wednesday.
A group of around 50 tried to pull down part of the razor wire fence separating the two countries.
Macedonian police responded with tear gas and positioned themselves behind armoured vehicles to avoid being hit by stones being thrown across the fence.
On the Greek side of the border too, police intervened to break up the crowd.
Greece has been trying to encourage refugees to go to centres elsewhere in the country and apply for asylum.
Last weekend hundreds were injured in clashes with Macedonian police.
More than 10,000 migrants and refugees have been stranded at Idomeni since Balkan countries closed their borders.
Not far away from Idomeni on the Macedonian side of the border, the country's president was showing leaders from Slovenia and Croatia around a migrant transit centre at Gevgelija.
President Gjorge Ivanov said his country's authorities would keep the migrant route closed in line with EU policies. Slovenian President Borut Pahor and Croatian President Kolinda Grabar Kitarovic accompanied him to the centre just inside Macedonia, which houses 135 migrants trapped by the border closures.
The Croatian president called on the EU to be more clear in its policy towards migrants, saying it should take account of those fleeing war and who had a right to asylum.
A lot of tear gas continue to be shot in #Idomeni, yet the wind is bringing it back… to Macedonia. pic.twitter.com/kjYk230s3m

— julia druelle (@juliadruelle) 13 April 2016