Fighting rages along Syria's northern front
Comments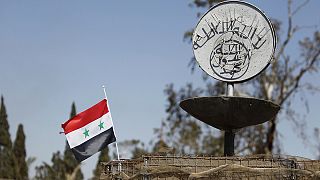 The momentum of the rebels does not exist any more
Scores of cement workers still missing
"State television says mass abduction of al-Badia employees took place in Dumeir, north-east of Damascus" https://t.co/2pm1V3cmBo

—

UNA

-Orlando (@UNAOrlando1) April 8, 2016
At least 200 people remain missing after ISIL militants attacked a factory in Syria.
The workers were reportedly taken from a dormitory at the site in Dumeir, 40 kilometres east of Damascus.
Around 140 managed to escape.
There has been fierce fighting in the area in recent days between government forces and ISIL fighters.
al-Raj retaken
Activists say Syrian rebel forces have taken control of a key town near the Turkish border.
al-Raj was the main ISIL stronghold in the northern Aleppo region.
Video footage posted on social media claims to show fierce fighting between factions aligned with the Free Syrian Army and ISIL militants.
The Amaq news agency, which is linked to the militants, says "US and Turkish-backed opposition brigades" have taken the town after "days of intense US bombing and Turkish artillery fire".
It is the first retreat by ISIL militants since they made major advances in the area last May, capturing areas close to the Azaz border crossing with Turkey.
Deir el-Zoor
This footage from the Syrian government army is said to show fighting in Deir el-Zour.
The city is strategically important for ISIL.
It links the group's de facto capital of Raqqa with Iraqi territory it also controls.
The eastern Syrian province is also rich in oil.
What they are saying
"The Russian intervention fundamentally reshaped the Syrian conflict, the momentum of the rebels does not exist any more." – Kheder Khaddour, the Carnegie Middle East Center.