Calls for Argentine president to quit after 'Panama Papers' revelations
Comments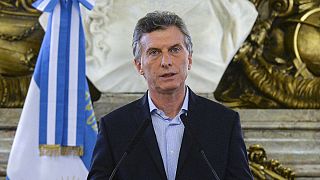 Protesters in the Argentine capital Buenos Aires have been calling for the country's president Mauricio Macrito step down after the so-called Panama Papers revealed he is on the board of two offshore firms,one registered in the Bahamas, the other in Panama.
He did not declare either when he became the city's mayor or the country's president.
"Simply, he should just get out, he should retire now, just like the prime minister of Iceland did," said protester Ilda Esmarkiazi. "Let him go, just go."
During his presidential campaign Macri vowed to fight corruption. Now he says he has nothing to hide.
"I did not receive any payment for acting as a director (of offshore companies). Tomorrow I will present myself before the court with all information necessary for the judge to verify that what I have done is correct," he said in a televised address.
"I want to tell you once more that I am very calm, I have obeyed the law, I have told the truth and I have nothing to hide," Marci said.
The country's federal prosecutor must now determine whether Macri had malicious intent when he left the details out of his sworn declaration of assets.