International finance chiefs call for transparency following offshore scandal
Comments
By
Euronews
with
Reuters, Financial Times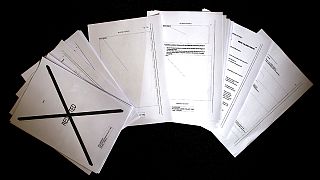 More transparency is called for by financial chiefs
Reforms were already underway
Panama Papers are a media witch hunt
Transparency and reform – two words used by a gathering of leaders and chiefs of international financial institutions following the publication of thousands of names of people who conducted offshore financial activity through a Panamanian law firm.
Accusations of wrongdoing are a media witch hunt
After a previously scheduled meeting with the heads of the World Bank, the Organisation for Economic Cooperation and Development (OECD), the International Monetary Fund (IMF), the International Labour Organisation (ILO) and the World Trade Organisation (WTO), German Chancellor Angela Merkel said the new corruption allegations showed the theme of transparency is "of the greatest importance".
Reforms under way
However in a separately recorded interview with euronews , IMF Managing Director, Christine Lagarde insisted changes were under way even before the scandal broke:
"The initial work that started back in, I think it was 2010-2011, under French presidency of G20 for that matter, is not mission accomplished. Far from it. And a lot more work needs to be done. It needs to be constantly upgraded, continued, because there is no limit for imagination of some."
The Mossack Fonseca documents or so-called "Panama Papers" have exposed a web of secret offshore companies allegedly used to hide wealth, evade taxes and launder money. Hundreds of wealthy and politically powerful people have been implicated in the findings published by the International Consortium of Investigative Journalists and the more than 100 media organisations worldwide with which it has shared the documents.
Witch hunt
Authorities across the globe have now opened investigations into their own rich and powerful nationals who have been named in the documents. The firm at the centre of the storm Mossack Fonseca has said it supports international efforts for clarity but denied any criminal wrongdoing.
Indeed one of its founders has dismissed the accusations as a media "witch hunt" aimed at undermining the legitimate industry of setting up offshore companies.
Ramón Fonseca, who said he believed the disclosure was the work of hackers, staunchly defended the legality of his firm's work over nearly 40 years in which he said it had faced no charges of wrongdoing.