Confrontation at Brenner Pass during a pro-migrant rally
Comments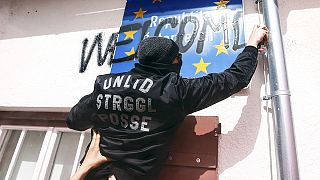 Around 500 demonstrators held a pro-immigration rally on Sunday, crossing the Austrian – Italian border at the Brenner Pass.
The event was held to mark the start of tough new controls being introduced by Austria which are designed to limit the influx of migrants trying to get to northern Europe.
Florian Schoenemann who is a member of Germany's Alliance `90/The Green party said it was up to Europe to show the world it is open minded:
"I think when everybody in Europe works together it is going to be easy. They (the migrants) are not that many people. Europe has so many citizens. It is just a tiny percentage of people that would come here."
What started peacefully enough later turned into a confrontation with police. Around 50 protesters – most of them Italian – were arrested and five officers were injured.
Gewaltsame Auseinandersetzungen am Brenner-Pass bei Protesten gegen EU-Asylpolitik https://t.co/4QoiTTxaDMpic.twitter.com/mFABu5sG6q

— Matthias Meisner (@MatthiasMeisner) April 3, 2016
Austria plans to deploy solders at the Brenner border to stem an expected increase in migrants as winter ends and warmer weather arrives.
In February Vienna introduced border restrictions which have already caused a fall in the number of migrants to Germany. But the government thinks that as old routes become tightened up, new route will develop through Bulgaria or Albania as Mediterranean crossings to Italy from Libya resume with the arrival of warmer weather.