Azerbaijan announces unilateral Nagorno-Karabakh ceasefire
Comments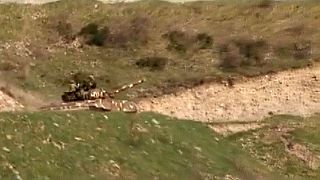 Azerbaijan has announced a unilateral ceasefire after the worst clashes in decades over the breakaway region of Nagorno-Karabakh.
Both Azerbaijan and Armenia confirm dozens of dead and injured after fighting erupted on Saturday.
Despite Azerbaijan's declaration of a truce, however, officials in Nagorno-Karabakh claim hostilities continue.
The two sides accuse each other of violating a fragile ceasefire that has been in force since a separatist war ended in 1994.
Amid international calls for restraint, it is still not certain how many of the casualties are civilians.
The Azeri defence ministry claimed it had taken strategically important settlements, a claim denied by Armenia.
The Azeri Ministry of Defence claimed that six Armenian tanks were destroyed and more than 100 Armenian servicemen were killed and injured.
It added that 12 Azeri soldiers had been killed.
Armenia denied the figures given by Azerbaijan.
Nagorno-Karabkh's military claimed Armenian forces had shot down an Azeri helicopter. Baku later admitted that one of its Mi-24 helicopters had been struck down.
The Armenian Defence Ministry said: "The enemy, using tanks, artillery and aviation made attempts to get deep into the defence lines of the Nagorno-Karabakh Army of Defence and capture tactical positions. The enemy was thwarted."
Armenia said 18 ethnic Armenians were killed and 35 injured.
#Azerbaijan'i helicopter MI-24 shot down by #Karabakh forces pic.twitter.com/xn6dk4Ndin

— Karabakh

MFA

(@mfankr) April 2, 2016
The conflict over Nagorno-Karabakh claimed some 30,000 lives before a ceasefire accord was struck.
#Azerbaijan bombd #Karabakh civilian settlements.
A video on effects & their losseshttps://t.co/DLiwUKuh1G#NKpeacepic.twitter.com/jKcxaPXu0Y

— Karabakh

MOD

(@Karabakh_MoD) April 2, 2016
Russia, a key mediator in the conflict, has stepped in, with President Vladimir Putin calling for both sides to observe the ceasefire to 'avert new casualties'.
Germany has also called for restraint.