UN 'shocked to the core' over new child sex abuse allegations in CAR
Comments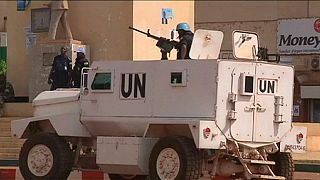 Shocked to the core, that was the reaction of UN chief Ban Ki-moon to new allegations of sexual abuse by peacekeepers in Central African Republic.
We must face the fact that a number of troops who were sent to protect people instead acted with hearts of darkness.
Announcing 108 new alleged victims, the vast majority of them children, the UN said it would 'leave no stone unturned' in investigations, though could not confirm reports of forced bestiality.
"The interventions of the international community helped save the Central African Republic from an unspeakable fate," UNSG spokesperson Stephane Dujarric told the press. "Yet we must face the fact that a number of troops who were sent to protect people instead acted with hearts of darkness. These crimes fester in silence. That is why the Secretary-General is shining a spotlight on these despicable, depraved and deeply disturbing allegations."
"These crimes only fester in silence" – Ban Ki-moon on latest allegations of abuse in the #CentralAfricanRepublicpic.twitter.com/mu290HL62Y

— UN Spokesperson (@UN_Spokesperson) March 31, 2016
The allegations date back to 2013 and were first announced by AIDS-Free World on Wednesday. In one case three girls told a MINUSCA Human Rights officer that along with a fourth girl they were tied up and forced to have sex with a dog by a French military commander.
Currently in CAR, U.S. Ambassador to the United Nations Samantha Power, said she had had the opportunity to speak to some of the families of victims of abuse.
"It was gut-wrenching to hear them speak about how the peacekeepers they had looked to as protectors became perpetrators. " She continued by commenting on the stigma attached to sexual abuse, noting how many victims had been ostracised by their communities.
The countries whose peacekeepers were accused – France, Gabon and Burundi have all been notified. French Ambassador Francois Delattre said the allegations are "sickening and odious." He added that they were "determined to shed full light on these grave allegations."
New info shows huge numbers of previously unreported #peacekeeper sex abuse in #CARcrisis: https://t.co/WRhKD5wcYDpic.twitter.com/npQidThCQe

—

AIDS

-Free World (@AIDS_Free_World) March 30, 2016
It comes on the back of dozens of allegations of child rape by its peacekeeping forces especially those based in Central African Republic.