School's out in Hungary in protest at government control
Comments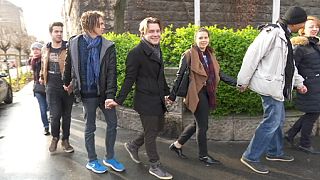 First lessons of the day were cancelled at some 250 establishments in Hungary on Wednesday, as teachers, pupils, their parents and grandparents gathered outside schools to protest at centralised control of state education which they consider oppressive and heavy handed.
"We thought someone should represent the students, at least a few of us. We heard students at other schools are taking part too," said one student taking part in a protest event in the capital, Budapest.
"I am here for my grandchildren," said one elderly woman.
"I have six of them. The seventh is about to be born and I would like them to have a good education system, preparing them for real life."
Hungarian teachers hold walkout to protest education policy: BUDAPEST, Hungary (AP) — Hundreds of teachers acr... https://t.co/2thLHcfQfe

— Hungary News Links (@dlhungary) 30 mars 2016
Since the centre-right government took control of schools from local authorities three years ago, teachers and students' workloads have increased. A new curriculum uses textbooks that critics say contain factual errors and promote very conservative views.
With this the latest in a series of protests, the government is discussing making changes and has asked demonstrators to join other teaching organisations and unions already round the table.
But the invitation is unlikely to be accepted as protesters consider this forum a farce – and not representative of their views.
For protesters, the centralised control of schools is yet another example of what they see as Prime Minister Viktor Orban's authoritarian style of leadership.
Our correspondent in Budapest, Andrea Hajagos, said: "Organisers say that they will give two weeks for the government to budge. Failing that, more action will follow".