Pupils and teachers join forces in Hungary to protest over state education system
Comments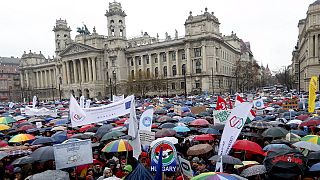 At a German lesson in a Hungarian school half of the students were missing and it wasn't because of a flu bug. It was a response to a Facebook event called "I won't go to school". It was a solidarity day – students and teachers protested as one against the state education system.
Hanna was one of those who didn't attend school and her father stayed from the office. It their way of protesting. They say their problem with the education system is that there is too much unnecessary data to learn instead of teaching pupils how to think and how to create.
"In school they show only a few examples and we don't practice too much. Instead they quickly explain and tell us what we should learn and then we immediately switch to the next topic," explained Hanna Gerse.
"We heard that there is no chalk, no paper, no computer, the teachers' work load is too much, they can't teach the subject thoroughly as the educational system itself isn't geared up for that, the curriculum is huge, the children can't comprehend. At home Hanna says: "dad, I don't understand, mum, I don't understand"" said her father Ferenc.
This English communication club was held for students who didn't want to go to school. There were several programs organised on Monday as around 30,000 people joined the event on Facebook.
In another protest pupils donned checked shirts on Facebook show their solidarity with teachers. who have to teach 26 lessons per week with the same amount of time on administration and don't have a say on what they teach.
"The autonomy of the school has been totally abolished, we have to teach the children according to a centralized curriculum in which we can change only up to 10 per cent of it in certain parts, but this is very little," István Pukli a teacher at Teleki Blanka Secondary School pointed out.
The teachers union laid down a 25 point petition but it was dismissed by Prime Minister Viktor Orban in parliament as a simple wage demand.
The government too is unhappy about the way the pupils are involved in the protests. It maintains the protests are politically motivated and children should not be involved.
"The question of the content of the curriculum cannot be solved from one day to the next if that was the case, then it could have already been solved it in the last few decades, but it didn't happen. We know it is a problem, but it is not a good solution to force the pupils into such an unpleasant situation," opined Imre Sipos – Deputy State Secretary for Public Education.
But the government says it has made mistakes so now it will attempt to change a few things after a series of talks with teachers. It plans to have new rules in place by the beginning of the next semester.