Hungary: PM Orban blames refugees for undermining Christian Europe
Comments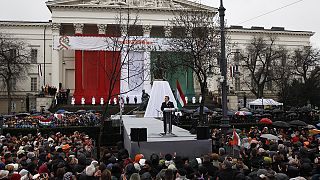 Hungarian Prime Minister Viktor Orban has used an annual rally marking Revolution Day to attack the European Union's migration policy.
To a mixed crowd of pro and anti government supporters he said that refugees pose a danger to the Christian traditions of Europe and criticised EU plans to distribute asylum seekers across the bloc.
"We cannot let Brussels put itself above the law. We won't let them push their bitter fruits of the EU's cosmopolitan immigration policy. We will not import crime, terrorism, homophobia and a brand of anti-Semitism that sets synagogues ablaze."
Later the crowds were swelled with thousands of teachers demonstrating against the government's education reforms.
Orban's government took control of schools from local authorities three years ago, and a central body now regulates the system. It has increased teachers' workload and implemented a new curriculum using textbooks critics say contain errors.
"They have to re-think over the whole system. The problems are very deep. They don't want us to teach children to think, they have to learn by rote," said one teacher.
Our correspondent Attila Magyar in central Budapest said
"According to the demonstrators the problems around the Hungarian education system reflect a wider domestic state of affairs. They are hoping that the situation will soon improve and the government will take steps to meet them half way."