Italian singer-songwriter Gianmaria Testa dies at 57
Comments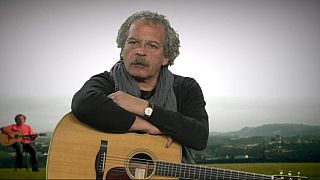 Italian singer-songwriter Gianmaria Testa has died at the age of 57.
His passing was announced on the Facebook page of the musician who had confirmed that he was suffering from an inoperable tumour.
Testa's career took off after he won a music festival for emerging artists in the early 1990s.
He spoke to euronews in 2012.
"I really hope that when my children think of their father singing, they will never be ashamed of what they are listening to, even in 30 years," he said.
"Quite simply, that is what I would like my music to leave behind."
Formerly a railway worker, Testa's songs were poetic but very much rooted in the real lives of ordinary people.