Fresh allegations of sexual abuse against UN peacekeepers in CAR
Comments
By
Euronews
with
United Nations, Reuters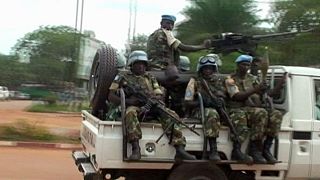 The United Nations says it is gathering information concerning fresh allegations of sexual abuse and exploitation against its peacekeepers in the Central African Republic.
Burundian peacekeepers are accused of raping a fourteen-year-old girl earlier in March, while a Moroccan soldier is alleged to have engaged in an "exploitative sexual relationship with a woman" in February, 2016.
UN spokesperson Stéphane Dujarric said:
"The mission said that its primary concern was to ensure that victims have been assisted and all reports immediately investigated to ensure that any perpetrators are appropriately sanctioned. The integrated team will gather all available information and preserve evidence to the extent possible."
Dozens of similar accusations have been made against UN peacekeepers.
Burundi and Morocco have been notified of the latest allegations. They have ten days from notification (Friday, March 25) to let the world body know whether an investigation will be launched. Otherwise, the UN will begin its own inquiry.