Brussels bombings: Survivors, rescuers and religious leaders unite at cathedral service
Comments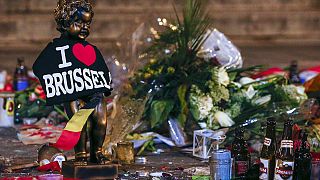 Survivors of the Brussels bombings, rescuers and religious leaders of all faiths have come together at a cathedral service in the Belgian capital.
I've been saved, so I want to be here to support the others
Representatives from the Jewish and Muslim communities were among those reflecting on last week's attacks, which killed 35 people.
Geoffroy Lemaitre survived the airport blasts.
"I'm here for the others mostly, I've been saved, so I want to be here to support the others," he said.
"I want us to be together, that's the support I've received and I also want to give that to the others. So if I can do that, I will, with great pleasure."
Kamar Takkal, a member of the Muslim community, added: "Being invited to a place like the Brussels cathedral is symbolic for me. It means we are all together, whatever our beliefs, whatever our messages, we are united, hand in hand, in suffering."
Meanwhile, police have made a new appeal for witnesses, releasing moving CCTV footage of the third suspect in the airport attacks.
He is seen wearing a hat, walking alongside the two presumed suicide bombers.
It came as Belgian prosecutors released a man – named only as Faycal C. – saying they did not have enough evidence to justify holding him.
He was suspected of being the "man in the hat," according to Belgian media reports.
The police investigation has so far netted half a dozen people in Belgium and others in the Netherlands, Italy and France – where officials claim the same network had planned another attack.