Belgium, France lead minute's silence for Brussels and Lahore attacks
Comments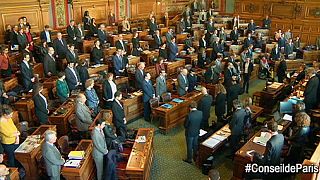 Brussels Mayor Yvan Mayeur has led a minute's silence in Paris with his French counterpart Anne Hidalgo.
The memorial for victims of the Brussels and Lahore attacks came exactly a week after explosions at the airport and on the metro killed 35 people in the Belgian capital.
"There is no more normal," Mayeur warned. "This is a concept that needs to be redefined. We are in a different era and we need to live in this dimension and keep believing that our model of an open, multicultural city such as Paris, Brussels, London or New York, this is what we want to be. This is the future and that is the message I wanted to bring."
Le #ConseildeParis débute par un hommage aux victimes des attentats de #Bruxelles en présence de son bourgmestre pic.twitter.com/6ISCG9r47p

— Elus PS Paris (@ElusPSParis) March 29, 2016
(
The Conseil de Paris opens with an homage to the victims of the attacks in #Brussels.
)
#ConseildeParis Je n'oublie pas les villes plus lointaines mais non moins éprouvées ces derniers jours, #Lahore et la #cotedivoire

— Anne Hidalgo (@Anne_Hidalgo) March 29, 2016
(
Not forgetting cities, which are further away, but have suffered just as much in recent days.
)
Both Mayeur and Hidalgo held a meeting to discuss how Paris reacted to a series of coordinated attacks in November, in which 130 people lost their lives.