Russia pursues Syria pullout but 'will continue fighting terrorist groups'
Comments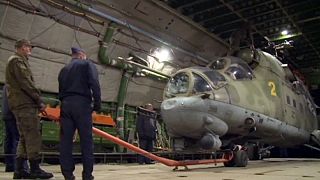 Three Russian heavy attack helicopters headed home from Syria on Monday, in line with President Vladimir Putin's declared withdrawal this month of the bulk of his country's military contingent from the war-torn country.
Russian state TV channel Rossiya-24 reported that two Mi-24 and one Mi-35 helicopters had left the Hmeymim base onboard the heavy Antonov-124 transport airplane, along with some engineers and technical staff.
Russia has confirmed its air force was involved in driving ISIL out of the Syrian city of Palmyra.
"We are talking about air support by our planes. Our armed forces are not conducting any land operations there," Kremlin spokesman Dmitry Peskov told a teleconference with reporters.
"After the withdrawal of part of our (military) contingent from Syria, air force units remaining at two bases – in Hmeymim and Tartous – will continue fighting terrorist groups … and will continue supporting the Syrian's army's offensive."
A Russian serviceman at the Hmeymim airbase in Latakia reiterated that remaining military personnel there would
continue their active service.
"Let's call them on-duty forces, able, at any moment, to defeat an attack and do what is needed, if the order comes," he said.
As the transport plane flew out of Syria, Russian media said that humanitarian aid was being flown in.
Moscow's intervention in September turned the tide of Syria's five year conflict in favour of President Assad.