Brussels bombings: Belgian police question nine after raids
Comments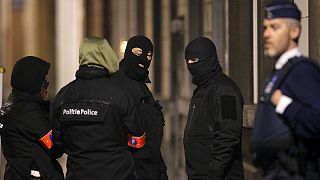 Belgian police carried out 13 more raids on Sunday in the wake of the deadly Brussels attacks.
Nine people were questioned, with five of them later being released.
Amid fears of further attacks, police swooped in and around Brussels and Antwerp.
There has been criticism that Europe's not done enough to share intelligence about suspected Islamist militants, but it appears now that cooperation is deepening.
Dutch anti-terrorism police arrested a 32-year-old man in Rotterdam on Sunday. He is suspected of preparing an attack on France.
Three other people were also detained, according to prosecutors.
Meanwhile, in Italy, police have released a picture of Algerian national Djamal Eddine Quali, who is suspected of making documents for militants linked to the Brussels bombings. He was arrested on Saturday near Salerno, in southern Italy.
Quali's name was in documents found during a raid on an apartment near Brussels last October.