Remembering Brussels: archiving messages at Place de la Bourse
Comments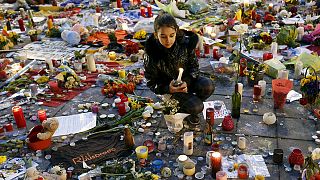 At first chalk messages decorated Place de la Bourse in Brussels and quickly flowers and flags were added to the makeshift shrine in the Belgian capital.
A monument of solidarity and grief that archivists are hoping to preserve.
"We have two missions today. To try to photograph as many of the messages laid here, especially those that can't be collected. And then to try to harvest as many of the messages laid here by the public, by the citizens, even if they were somewhat damaged by the rain we had overnight," explained Frederic Boquet, Brussels head archivist.
By March 23 chalk messages covered the square and the tributes paid homage to Belgian culture, "Chocolate, beer and love are still better for humanity than bombs and hatred" read one. On another day a plate of fries with red, yellow and black forks could be found among beer cans holding roses as well as flags from all over the world.
"From the first day, everyone rushed here to call for peace and non-violence and it has lasted the entire week," said Marina Queralt a student in Brussels. "I walk my dog here every day and every morning, every afternoon it was packed with people who wanted just one thing: that people stop killing each other."
A revised death toll was announced on Saturday, counting 28 victims and three suicide bombers. So far 24 people have been identified, while 101 people wounded remain in hospital, with 62 still in intensive care.